[June 12, 2018] Overseas Study Programmes: 2018 Briefing Session /2017 Debriefing Session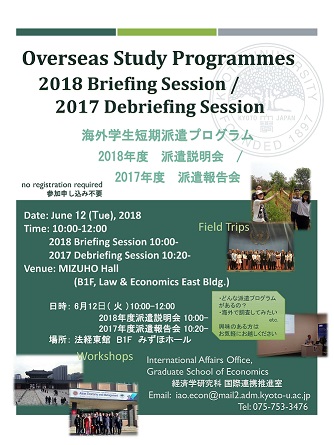 Graduate School of Economics will hold the 2018 Briefing and 2017 Debriefing of Overseas Study Programmes.
Date: June 12, Tuesday / 10:00-12:00
Venue: B1F, Mizuho Hall, Law & Economics East Bldg.
Registration is not required.
If you have an interest in Overseas Programme, you are welcome!
[Contact]
International Affairs Office, Graduate School of Economics (2F Law & Economics East Bldg.)
Tel: 075-753-3476
E-mail: iao.econ [at] mail2.adm.kyoto-u.ac.jp (please replace [at] with @)