Call for entries: English Brush-up Workshops
The Graduate School of Economics is now offering 2 workshops.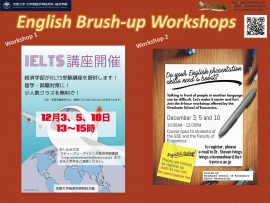 "Want to improve your IELTS score?"
"Preparing for an international conference?"
"Want to Improve presentation skills in English?"
Register today!
※There is no participation fee!
(Date)
Day 1: December 3 (Mon.)
Day 2: December 5 (Wed.)
Day 3: December 10 (Mon.)
【Application deadline】
16th November, 2018
For more details, please see the following URL.
https://agst.jgp.kyoto-u.ac.jp/topics/event/1682
We are looking forward to your participation!
【Contact】
Senior Lecturer, Steven Ivings
ivings.stevenedward.8a[at]kyoto-u.ac.jp
(please replace [at] with @)