The 100th Year Anniversary International Conference

Faculty of Economics of Kyoto University is one of the earliest founded economics department in Japan. To commemorate its 100th anniversary, we are pleased to host the international conference series, inviting well-known researchers from home and abroad.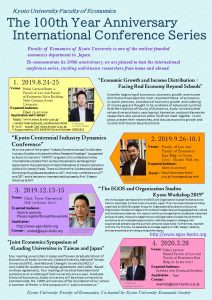 1.Economic Growth and Income Distribution: Facing Real Economy Beyond Schools
 Date: 2019.8.24-25
 Coordinator: Hiroaki SASAKI (Professor)
 *This event was organized successfully. Thank you for your attendance and support.
2.Kyoto Centennial Industry Dynamics Conference
 Part 1: Pre-Conference Graduate Workshop
  Date: 2019.9.26
 Part 2: Kyoto Centennial Industry Dynamics Conference
  Date: 2019.9.27-28
 Part 3: Special Lecture by Prof. Eleanor Westney (MIT)
  Date: 2019.10.1
 Coordinator: Takafumi KUROSAWA (Professor)
3.The EGOS and Organization Studies Kyoto Workshop 2019
 Date: 2019.12.13-15
 Coordinator: Yutaka YAMAUCHI (Associate Professor)
4.Joint Economics Symposium of 4Leading Universites in Taiwan and Japan
 Date: 2020.3.28
 Coordinator: Takekazu IWAMOTO (Profeessor)