【November 25, 2019】Home Appliance Recycling Plant Tour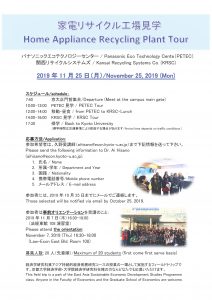 As part of the Field Research in Japan course, the East Asia Sustainable Economic Development Studies (EA Programme) is organizing a field trip to home appliance recycling plants. Any students in the Faculty and Graduate School of Economics are welcome to join the trip.
Please email the following information by October 25.
1. Name
2. Department・Year
3. Nationality
4. E-mail address
5. Phone number (preferably mobile)
E-mail to: Dr. Ai Hisano < aihisano [at] econ.kyoto-u.ac.jp > (replace [at] with @)
For further information, please see the poster.