International Double Doctoral Degree Programme
with the University of Glasgow
JAPANESE PAGE
Programme Outline
Students admitted to this programme spend two years at Kyoto University and two years at the University of Glasgow where they conduct doctoral research under a co-supervision arrangement involving both universities. Students on this programme produce a single doctoral thesis which (subject to examination) allows them to obtain two doctoral degrees, one each from Kyoto University (Doctor in Economics) and the University of Glasgow (PhD in Economic and Social History).
Students only pay tuition to the University from which they enter the programme. Double tuition is not levied.
Eligibility for Application
Only students already enrolled on a doctoral programme at the Graduate School of Economics, Kyoto University are eligible to apply to enter this programme via Kyoto University. Applications to enter this programme must be made in the prospective students' first year of doctoral study. It is not possible to transfer to this programme from the second year of doctoral study onwards.
The programme is geared towards students whose field of study is Business History, Social and Economic History, History of Policy and Industry. Students from these or related disciplines (i.e. those that use similar methods and approaches or address similar issues as the disciplines listed) are encouraged to apply.
Application procedure
Application Period
May 1 to 15 for April admissions
November 1 to 15 for October admissions
How to apply
Complete and submit the following documents to the Student Affairs Office during the designated period.
Application form(→click here)
Research plan(→click here)
CV
Letter of Recommendation form KU supervisor(→click here)
Thesis of Master's degree or an equivalent paper
English language proficiency test score report
Programme Structure
The standard period of completion for students on this programme is four years. Throughout this period enrolled students benefit from co-supervision by faculty at Kyoto University and the University of Glasgow.
On this Double Doctoral Degree programme students follow a standard period of enrolment (as below) as set out in a "Memorandum of Understanding" concluded by Kyoto University, the University of Glasgow and each student upon enrolment.
Programme Schedule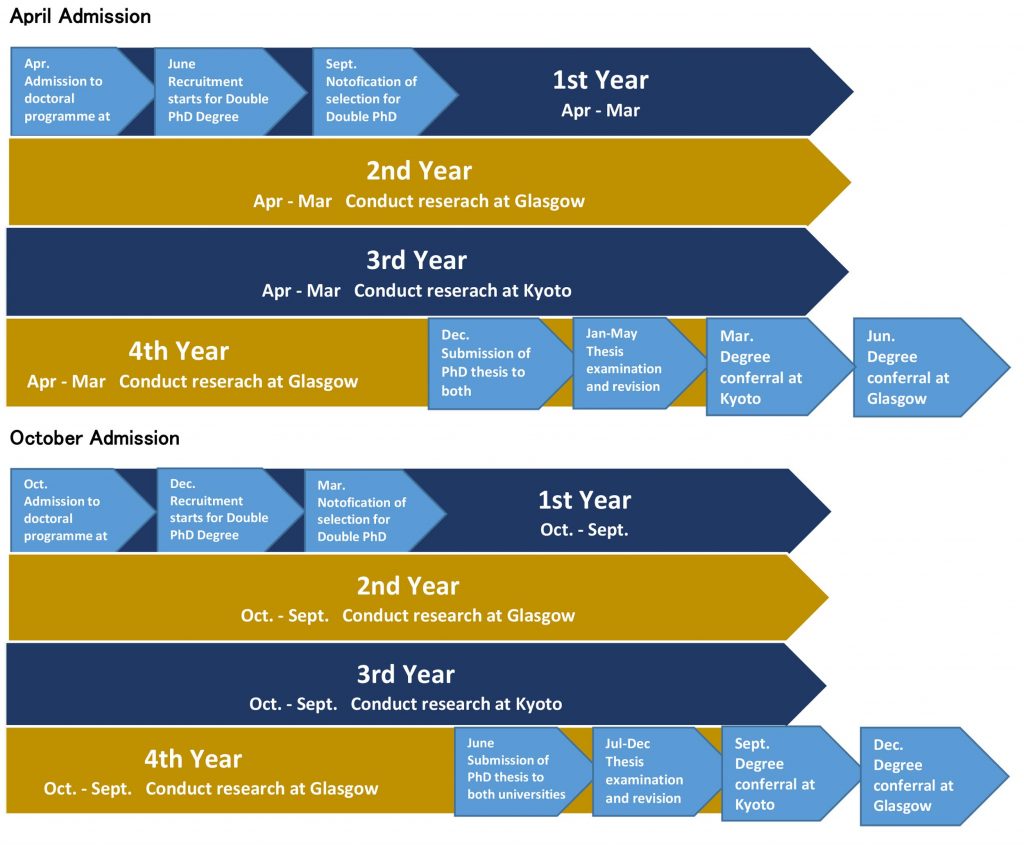 Note: The above periods of enrolment are examples of the shortest possible completion time. The period of enrolment will be determined by a "Research Student Agreement" between Kyoto University, the University of Glasgow and each student.
Programme Coordinators
Kyoto University, Graduate School of Economics
Prof. Kurosawa Takafumi
Prof. Tanaka Akira
Associate Prof. Steven Ivings
University of Glasgow, College of Social Sciences
Prof. Duncan Ross
Prof. Raymond G. Stokes
Prof. Jeff Fear