CALL FOR ENTRIES: AGST Overseas Challenge Programme 2016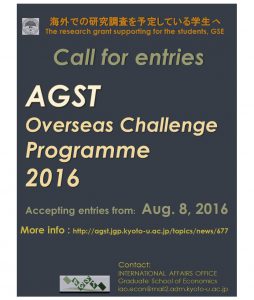 Graduate School of Economics announced a call for entries for "AGST Overseas Challenge Programme 2016".
This Overseas Challenge Programme provides students of the Graduate School of Economics (GSE), Kyoto University with opportunities to conduct field research overseas. It aims at fostering students ongoing research or thesis under the guidance of the host researcher(s) in universities and institutions abroad.
All the submitted applications are screened by the committee of the "AGST Overseas Challenge Programme 2016". The selected applicants will be provided assistance grant funding on conducting their field research in abroad.
The entry start from 8st Aug. to 16th Dec. However, the program will stop accepting application when the number of the successful candidates reaches the prescribed limits in the guideline.
Please check at the guideline
http://agst.jgp.kyoto-u.ac.jp/topics/news/677
We are looking forward to your applications.
International Affairs Office (Opening Hours: 10:00 – 17:00)
2nd Floor, Faculty of Law and Faculty of Economics East Bldg.
Graduate School of Economics, Kyoto University
TEL: 075-753-3476
E-mail: iao.econ [at] mail2.adm.kyoto-u.ac.jp (please replace [at] with @)