TOP > ディスカッションペーパー > No.31 INCLUDING TRANSPORT FUELS IN EMISSIONS TRADING SCHEMES: LESSONS FROM CALIFORNIA FOR GERMANY'S NEW FUELS ETS
No.31 INCLUDING TRANSPORT FUELS IN EMISSIONS TRADING SCHEMES: LESSONS FROM CALIFORNIA FOR GERMANY'S NEW FUELS ETS
2021/5/11
Sven Rudolpha, Takeshi Kawakatsub
, Achim Lerchc, Elena Aydosd and Seiji Ikkataie
aAssociate Professor, Hakubi Center / GSGES, Kyoto University, Japan.
bProfessor, Faculty of Public Policy, Kyoto Prefectural University, Japan.
cProfessor, FOM University of Applied Sciences for Economics and Management.
dSenior Lecturer, University of Newcastle Law School, Australia.
eProfessor, Graduate School of Environmental Sciences, Musashino University, Tokyo, Japan.
Contact: rudolph@econ.kyoto-u.ac.jp.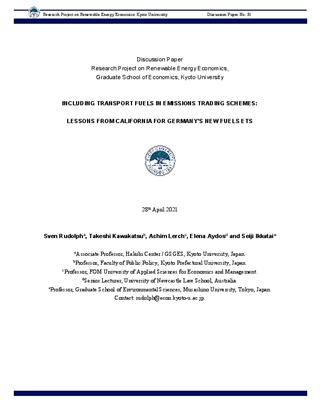 Abstract:Emissions from the transport sectors remain to be the Achille's Heel of climate policy. In spite of emissions reductions in industry and power generation in climate pioneer jurisdictions such as California and Germany, transport sector emissions have not been significantly reduced. So how can this Achilles Heel of modern climate policy be cured? Theory and practice of treating transport sector carbon dioxide (CO2) emissions have mainly focused on regulatory (e.g. low carbon fuel standards), subsidy (e.g. tax credits for electric vehicles), of tax approach (e.g. carbon taxes). However, California has been using an emission trading scheme (ETS) for the transport sector since 2015, and Germany is going to implement its own Fuels ETS (F-ETS) next year. Against this background, we briefly recollect the advantages of cap-and-trade, before describing the design of both the Californian and the German approach to including transport sector emissions in ETS. We then comparatively evaluate the designs based on a set of ambitious sustainability criteria developed by Rudolph et al. (2012) and analyze the (expected) results. We mainly conclude that ETS can be used for sustainably limiting transport sector emissions, but the respective design has to reflect the specifics of the sector. We also show that, while already being an ambitious approach, Germany's new program could greatly benefit from three major program revisions.
Keywords:Climate Policy, Emissions Trading, Transport, Sustainability, California, Germany