課程と学習内容
Curriculum Structure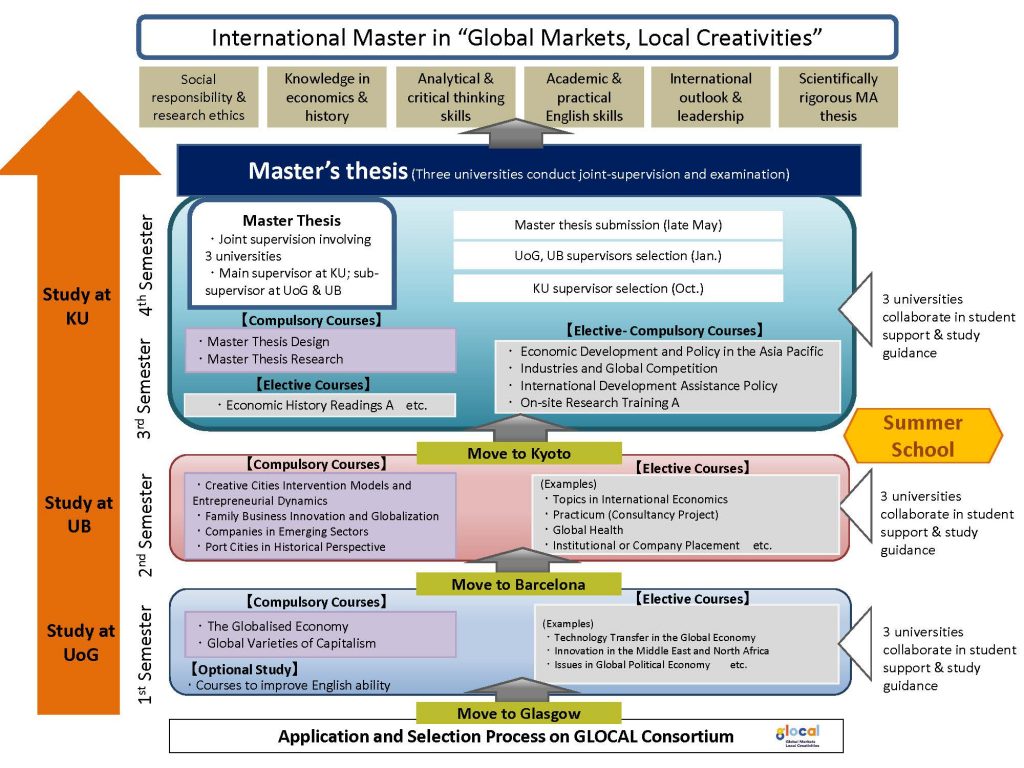 ・Students are enrolled in the program for two years. They spend their first year in Europe, with a semester at Glasgow followed by a semester Barcelona, and their second year is spent at Kyoto.
・Students are jointly supervised by faculty at Kyoto, Glasgow and Barcelona and their Master's thesis is also examined by all three universities.
・During the degree program, students are required to obtain a minimum of 30 ETCS each from courses offered at University of Glasgow and University of Barcelona, as well as 60 ETCS (including the 30 ETCS course "Master Thesis Research") from Kyoto University.
・Students are required to take two or more of the three available Elective- Compulsory courses from the "Industry Dynamics and Sustainability" course category, and, one course from the "Field Research on Industry Dynamics and Sustainability" course category. See the course list for further details.

Joint Degree Program Regulations [subject to minor update each year]


Course list and Syllabi
Please click on the title of the course for individual syllabi.
Syllabi will be updated in March each year.

Click here to download List of Courses


Academic Calendar
Academic Calendar
Academic Calendar (GLOCAL)
Academic Calendar (KU)

Time table (KU) To be released in March 2022

University of Glasgow
University of Barcelona


Master's Dissertation & Supervision
In their third semester students formally begin work on their master's dissertation through the mandatory taught course "Master Thesis Design". At the start of the third semester one or two supervisors are selected at Kyoto University and research supervision is provided individually and via a monthly workshop which includes guidance on research methods and the presentation of research findings, etc.
By mid-January of the third semester two additional supervisors, one each from University of Glasgow and University of Barcelona respectively, are selected, and together with the supervisor(s) from Kyoto University they form the joint supervision committee which thereafter jointly supervises the dissertation.
In the fourth semester students take the mandatory course "Master Thesis Research". The submission of the master's dissertation and its successful assessment is a requirement for the acquisition of credit on this course.
In terms of format the master's dissertation is to be written in English. It must be no fewer than 20,000 and no longer than 25,000 words in length, including all tables, diagrams, notes and references, etc.
Prior to the submission of the master's dissertation the student is required to submit their dissertation title to Kyoto University. The title is to be approved in consultation with the members of the joint supervision committee.
The master's dissertation is to be submitted electronically to Kyoto University by the set deadline (usually in late May of the fourth semester). The student will also submit a pledge on research integrity and any other related documents together with the master's dissertation. Upon receiving the submitted master's dissertation Kyoto University will then distribute copies to University of Glasgow and University of Barcelona.
An oral examination will be held as part of the examination of the master's dissertation. A joint examination committee, composed of two faculty members from Kyoto University, one from University of Glasgow and one from University of Barcelona, will evaluate the master's thesis jointly based on the agreed upon grade scale.
In the case that a master's dissertation does not meet the criteria for graduation, the candidate will be granted another opportunity to submit their work as determined by the Joint Board of Examiners.


Teaching staff
GLOCAL teaching staff

Kyoto University teaching staff
Prof. Takafumi Kurosawa
Assoc. Prof. Steven Ivings (Coordinating Faculty)
Prof. Akira Tanaka
Prof. Junko Watanabe
Prof. Shuji Hisano
Assoc. Prof. Tao Wang
Assist. Prof. Sachiko Hata (Coordinating Faculty)