Application Procedures for Doctoral Programme
Last Update: February 13, 2019
Current posted information is for 2019 Enrolment.
For details on 2020 Enrollment, please wait for the updated information which will be posted by the end of February, 2020.
Number of Applicants to be Admitted
Approximately 5 international students are admitted to the programme each year.
Eligibility for Application
Applicants who have already obtained or will obtain a Master's degree including MBA by the enrollment day at Kyoto University.
Application Forms & Guidelines
Please carefully check the guidelines and FAQ before applying.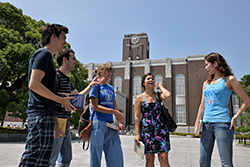 NOTICE: Applicants who are enrolled or were enrolled at universities in China, Hong Kong or Taiwan are required to go through the screening process by the Admissions Assistance Office (AAO)  as a Pre-Application procedure. Please see the following web page for more details. *The AAO screening process commonly takes a few weeks before we receive feedback from AAO. Please begin the AAO procedure at least two weeks before the deadline for the application submission via e-mail.
Overall Schedule for Application and Selection
by the end of February
Application Announcement
  ↓
Check the latest Guidelines
1st April to mid-May
Submission of Application Documents via Email
End of May
Notification of Schedule of Interview and Skype Test
Submission of Hard Copy of Application Documents via Postal Mail
End of May to Early June
Interview via VoIP (e.g. Skype)
Mid-June
Announcement of Screening Results
      ↓
        ↓
August
Enrolment Procedures
October
Entrance to Programme