Message from the Director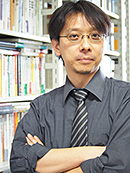 I have been involved in this international graduate programme since it was launched in 2009. We have received more than 80 students from China, South Korea, Indonesia, Thailand, Malaysia, Philippines, Viet Nam, Germany, Italy, Turkey, Egypt, UK, Belgium, Spain, U.S.A, Mexico and Japan. The programme has been open to Japanese students since 2013. Hopefully we will have many Japanese students to study together with international students who study here with passion and commitment to contribute to sustainable development of the region and the world.
One of the key words in the programme is "sustainable development" as included in the programme name. Sustainability is becoming a buzz word nowadays. I'm sure that each person, each researcher, each student has his or her own idea and definition. At least for us it is not just an environmental concept. It should also include well-balanced development among different regions, different industry sectors, different socio-economic classes, different generations, and so on. It is about justice and equity; it is about diversity and mutual respect and understanding. In a sense, our programme encourages students to seek out their own way of understanding and their own style of contributions to sustainable development locally as well as globally.
Therefore, you are strongly encouraged to develop multidimensional, multidisciplinary, multicultural perspectives, and also a critical sense of reality, which is sometimes missing in economics. Whatever topics you are going to study in economics and other social sciences, you should start with a reality on the ground. I hope you would share this idea, not fully but somehow at this moment. You can learn that here with us.
I'm looking forward to seeing you in this programme!!
Prof. dr. Shuji HISANO
International Political Economy of Agriculture, Food and Biotechnology<