TANAKA, Akira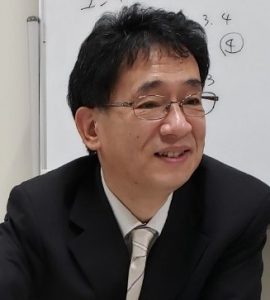 Professor (Doctor of Economics, Kyoto University)
external link Activity Database on Education and Research / Personal Website
Fields of Research: Business History, Industry Studies
Academic Backgrounds: I received a degree of "Master in Economics" in 1992 at Kyoto University. I finished the course work of Doctoral Program in Economics, Kyoto University in 1995, and received a degree of Doctor in Economics from Kyoto University in 2012. I had worked at Faculty of Economics, Nagoya City University for 19 years since 1995 and was promoted to professor in 2009. He moved to Kyoto University in April 2014.
Research Activities: My fields of research are the modern Japanese economic and business history, international business, and industry studies.  His main topic is the historical development of inter-firm coordination system in the modern Japanese industries centered by Japanese general trading companies (shosha in Japanese), especially value chain from iron ore, via iron and steel to automobile. His research interest includes business history of shosha, comparative industry studies of East Asia, business groups in Japan. In 2012, He published a single-author Japanese book titled "Postwar Japan's Mineral Industry: A comparative History of Its Procurement System and Sogo Shosha."  It dealt comparative business history in Asia-Pacific iron ore, iron and steel industry, and won two awards from the domestic academic societies, Japan Academy of International Business Studies (JAIBS) and Japan Society for Distributive Sciences (JSDS).
My work appeared in Journal of Business Research, International Negotiations, and a lot of Japanese journals, and he presented at a variety of international academic meetings; Academy of Management (AOM), International Association for Chinese Management Research (IACMR), Asia-Pacific Economic and Business History Conference (APEBH), International Colloquium of GERPISA, Japan and Korea Business History Congress, Korea Association of Maritime Business (KAMB), World Congress of Business History (WCBH), Chinese Economic Society of Australia (CESA), Industry Studies Conference (ISA), Korea Distribution Association (KODIA), and will appear at Business History Conference (BHC) and International Federation of East Asia Management Associations (IFEAMA). I have been working as the Chair of International Exchange Committee of JSDS from 2014 through 2020.
Courses in Charge: Japanese Economic & Business History, Business History & Industry Studies Readings, On-site Research Training
Skills and Qualities Required for Prospective Students:
I look forward to applications from those who are willing to research in the fields of Economic and Business History or Industry Studies, mainly in qualitative methods. The students are strongly encouraged to conduct field research such as interviews. This means to require certain skills for communication, perhaps including Japanese language.
Examples of Thesis Subjects:
Doctoral Dissertations
The boom of Japanese-style management in China, 1980s (2018).
The history of modern seaweed industry.
Master Theses
Formation and development of home-appliances recycling system in Japan (2016).
Business models and competition in China's video streaming service (2019).
Corporate finance and regional banks in Kyoto: 1960-80s (2019).